In Sanctuary Worship Guidelines
---
---
---
Click here to sign up for in sanctuary worship.
For Phase I, the following expectations and protocols will be in effect:
This service will be livestreamed at 9:30 a.m. so that all can be "in the sanctuary" together, whether in a pew or at home. Click here for live streaming on Sunday at 9:30 a.m.
We will raise our capacity to 90 people in the pews (up from 60, and not including worship leaders/musicians/ushers.)  This will still provide for appropriate distancing between family units.
Advanced Sign Ups will be required each week via Sign Up Genius in the [email protected] email. While we cannot predict attendance with accuracy, we may find that there are those who cannot attend because capacity has been reached. If that continues to be the case, we may ask those who have been able to attend consistently to take a week off to give others a turn. And we do imagine, given the current trajectory, that we will be able to increase capacity limits soon.  Be assured that our Deacons have been contacting their Deacon Care Groups, to let them know that a designated Deacon is available to assist with the Sign Up Genius process, if needed.
No temperatures taken at the doors. We will have the expectation that people be feeling well when they come to church.
All people will be masked. We are a community of faith representing a wide range of ages and conditions. We have people who have medical reasons why they cannot be vaccinated. We have children who cannot be vaccinated, and the parents who love and live with them. We will all mask as a sign of our unity and our care for one another.
Ushers will welcome worshipers at both entrances, confirm their registration and then seat them from the front of the sanctuary to the back.
Offering plates will be kept at the sanctuary doors, rather than passed.
Music will be shared in a number of ways. Sometimes it will be the pre-recorded offerings of our music groups. Live instrumental music by masked musicians on non-wind instruments is welcomed.
Up to 2 Vocalists who are determined to be fully vaccinated, and who are at a distance of 20 ft from congregation may sing. And for now, the congregational may voice our praise through humming!
Children -  In Phase 1, no nursery care for infants or toddlers will be provided. However, children ages 4 and up will be invited to participate in the Sunday Morning Outdoor Kids Program, concurrent with the worship service, led by Amy Lisk. In the case of bad weather, they will meet in Fellowship Hall.
Fellowship Hall and Café Central – We will not gather in Fellowship Hall after worship in Phase I, but will be dismissed directly from the sanctuary to outdoors. We ask that you stay masked as you visit freely there! We will plan to continue our Zoom Café Central at 10:45, as that has been a very meaningful connection for folks, especially for those who may not feel they can be with us in person. Stay tuned as we see what the weeks bring in terms of changes to this offering.
Bathrooms - There will be no limitation on bathroom use, but every expectation of good hygiene!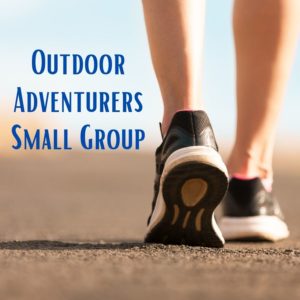 ---
OUTDOOR ADVENTURERS
SMALL GROUP
---
No Events At This Time
---