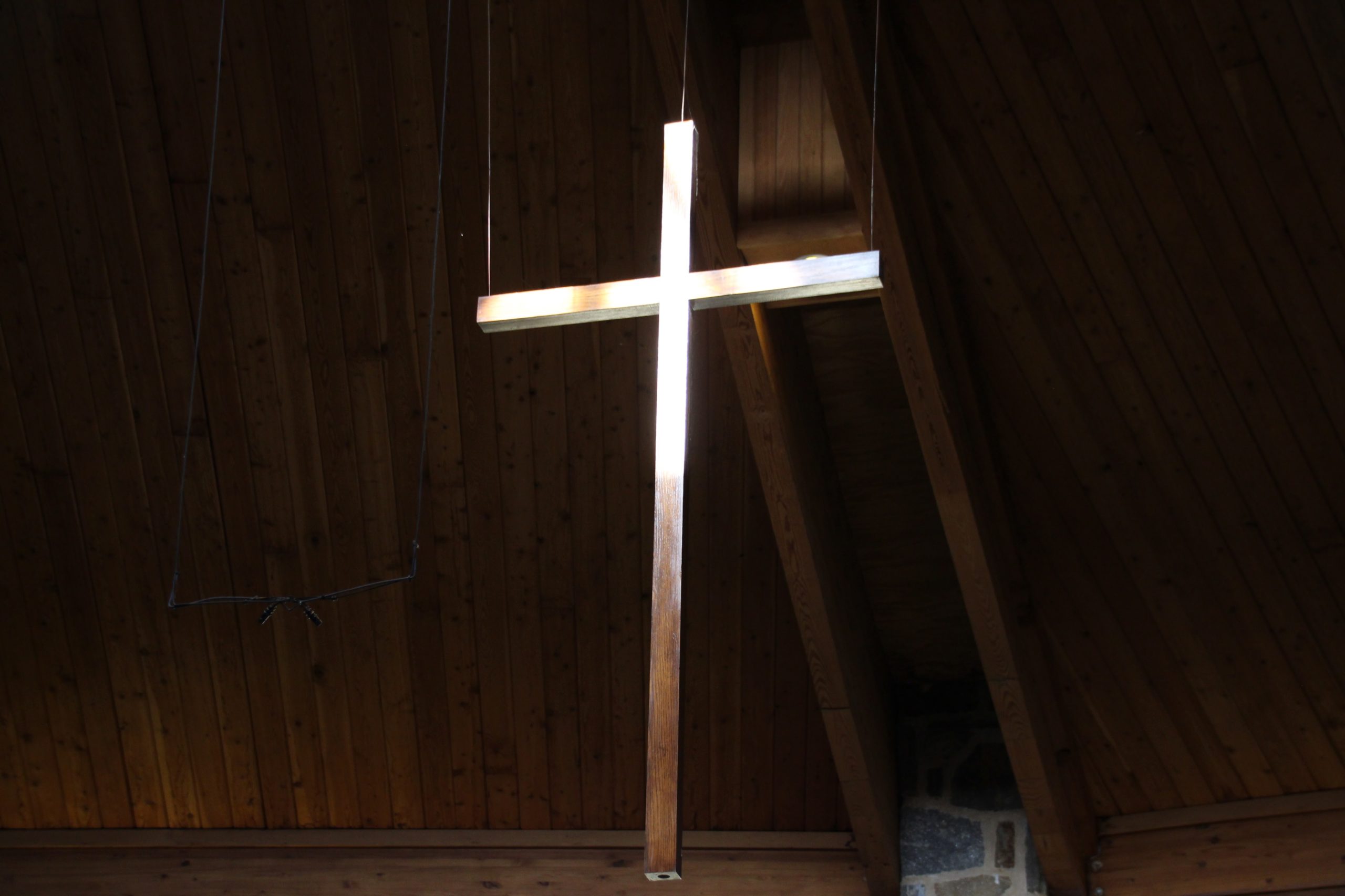 ---
Worship for Sunday September 27th, 2020
---
Celebrating the Lord's Day from our homes
---
---
---
As a PC(USA) congregation, we believe the worship of the triune God is the center of our common life and our primary way of witness to the faith, hope, and love of Jesus Christ. Worship binds us together as a congregation and equips us to know, love, and serve God in every aspect of our lives. Thankfully, we also believe worship has never been confined to a particular space or building. In these days when staying away from large physical gatherings is an important way we love our neighbor, we are grateful for the ways we are still gathered across boundaries as we worship together on Sunday mornings. May this service glorify God, unite our congregation, and center your soul this day.
Join us—light a candle, turn up the volume on your computer or device, and remember who and whose your are! Let us worship God, together. 
WE GATHER AS GOD'S PEOPLE
---
As we gather for worship, you are invited to light a candle to represent Christ in our midst.
---
---
Welcome & Announcements
---
---
Come, let us worship God, whose heart is full of love for all God has created. 
God, whose eyes see all people as equally made in God's image, equally welcome in God's realm. 
God, whose arms stretch wide to reach and draw all in, pushing down barriers of our making. 
God, who so loved the world that God gave the One who is the way to life, in and beyond this world. 
Let us worship that God, grateful to be so seen, so welcomed, so loved.
---
There's a Wideness in God's Mercy
---
Call to Confession:
As those called to a journey of faith, we know we have strayed. 
As those called to a journey of faith, we know we have dug in our heels, and chosen to be stuck in place. 
God calls us forward, by forgiving every sin that holds us back. 
Let us seek God's mercy, that gift that helps us move on.   
---
Holy God,
Your Spirit breathed life and power into believers once upon a time, and still today.
You inspire a variety of gifts,
but we are too quick to deny them in ourselves, or to see them in others.
You call us to go and share the good news,
but we resist unfamiliar territory, and unfamiliar faces.
We hold on to what has worked for us,
when you seek to work a new thing through us.
We withhold from others the grace you freely offer us,
and are quicker to offer criticism than compassion.
You show no partiality,
yet we are content with our privilege.
We choose silence when we are called to speak,
and let fear weaken our stand against all that denies the justice you call for.
Forgive us, O God, for not seeking or sensing your Spirit's presence on every step of our journey as your church. Guide our feet, guide our faith, that we would trust your leading, even in the detours along the way. Grateful for your mercy that moves us on, hear our prayers…
---
Assurance of Forgiveness:
"As the heavens are high above the earth, so great is God's love toward those who fear God; and as far as the east is from the west, so far does God remove our sin from us." (Psalm 103:11-12)
There is nowhere we can go, there is nothing we can go through, where God's loving mercy doesn't meet us. Believe and receive that good news – in Jesus Christ, we are forgiven! Thanks be to God!
---
---
To share the peace of Christ this week
,
pray for the peace of Christ to fill the heart of someone you know who is struggling in these days. And reach out to let them know you've done so.
---
WE LISTEN FOR GOD'S WORD
---
Time with the Children
---
In these words, O God, may we hear your Word, 
Calling us, leading us, shaping us to live as your faithful people. 
May we see you more clearly, love you more dearly  
and follow you more nearly, 
day by day. 
In the way of Jesus, Amen.
---
read by Steve Barainyak, Mike Kammerer, Peter Sparhawk, Jeff Kearney & Jenny Warren
---
In Caesarea there was a man named Cornelius, a centurion of the Italian Cohort, as it was called. 
2
He was a devout man who feared God with all his household; he gave alms generously to the people and prayed constantly to God. 
3
One afternoon at about three o'clock he had a vision in which he clearly saw an angel of God coming in and saying to him, "Cornelius." 
4
He stared at him in terror and said, "What is it, Lord?" He answered, "Your prayers and your alms have ascended as a memorial before God. 
5
Now send men to Joppa for a certain Simon who is called Peter; 
6
he is lodging with Simon, a tanner, whose house is by the seaside." 
7
When the angel who spoke to him had left, he called two of his slaves and a devout soldier from the ranks of those who served him, 
8
and after telling them everything, he sent them to Joppa.
---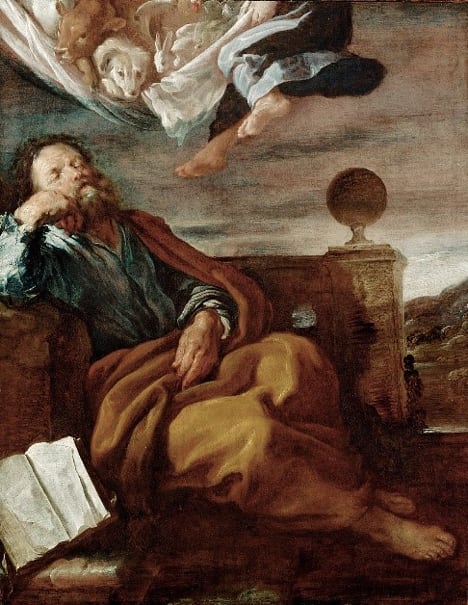 9 About noon the next day, as they were on their journey and approaching the city, Peter went up on the roof to pray.  10 He became hungry and wanted something to eat; and while it was being prepared, he fell into a trance.  11 He saw the heaven opened and something like a large sheet coming down, being lowered to the ground by its four corners.  12 In it were all kinds of four-footed creatures and reptiles and birds of the air.  13 Then he heard a voice saying, "Get up, Peter; kill and eat."  14 But Peter said, "By no means, Lord; for I have never eaten anything that is profane or unclean."  15 The voice said to him again, a second time, "What God has made clean, you must not call profane."  16 This happened three times, and the thing was suddenly taken up to heaven. 

17 Now while Peter was greatly puzzled about what to make of the vision that he had seen, suddenly the men sent by Cornelius appeared. They were asking for Simon's house and were standing by the gate.  18 They called out to ask whether Simon, who was called Peter, was staying there.  19 While Peter was still thinking about the vision, the Spirit said to him, "Look, three[a] men are searching for you. 


20 Now get up, go down, and go with them without hesitation; for I have sent them."  21 So Peter went down to the men and said, "I am the one you are looking for; what is the reason for your coming?"  22 They answered, "Cornelius, a centurion, an upright and God-fearing man, who is well spoken of by the whole Jewish nation, was directed by a holy angel to send for you to come to his house and to hear what you have to say."  23 So Peter[b] invited them in and gave them lodging.  The next day he got up and went with them, and some of the believers[c] from Joppa accompanied him.  24 The following day they came to Caesarea. Cornelius was expecting them and had called together his relatives and close friends. 25 On Peter's arrival Cornelius met him, and falling at his feet, worshiped him.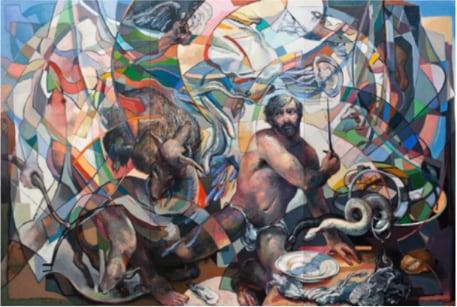 26 But Peter made him get up, saying, "Stand up; I am only a mortal."  27 And as he talked with him, he went in and found that many had assembled;  28 and he said to them, "You yourselves know that it is unlawful for a Jew to associate with or to visit a Gentile; but God has shown me that I should not call anyone profane or unclean.  29 So when I was sent for, I came without objection. Now may I ask why you sent for me?" 
30 Cornelius replied, "Four days ago at this very hour, at three o'clock, I was praying in my house when suddenly a man in dazzling clothes stood before me.  31 He said, 'Cornelius, your prayer has been heard and your alms have been remembered before God.  32 Send therefore to Joppa and ask for Simon, who is called Peter; he is staying in the home of Simon, a tanner, by the sea.'  33 Therefore I sent for you immediately, and you have been kind enough to come. So now all of us are here in the presence of God to listen to all that the Lord has commanded you to say." 

34 Then Peter began to speak to them: "I truly understand that God shows no partiality,  35 but in every nation anyone who fears him and does what is right is acceptable to him.  36 You know the message he sent to the people of Israel, preaching peace by Jesus Christ—he is Lord of all. 37 That message spread throughout Judea, beginning in Galilee after the baptism that John announced:  38 how God anointed Jesus of Nazareth with the Holy Spirit and with power; how he went about doing good and healing all who were oppressed by the devil, for God was with him. 39 We are witnesses to all that he did both in Judea and in Jerusalem. They put him to death by hanging him on a tree;  40 but God raised him on the third day and allowed him to appear,  41 not to all the people but to us who were chosen by God as witnesses, and who ate and drank with him after he rose from the dead.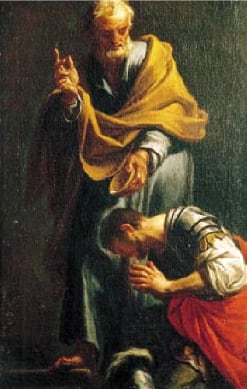 42 He commanded us to preach to the people and to testify that he is the one ordained by God as judge of the living and the dead. 43 All the prophets testify about him that everyone who believes in him receives forgiveness of sins through his name." 
44 While Peter was still speaking, the Holy Spirit fell upon all who heard the word. 45 The circumcised believers who had come with Peter were astounded that the gift of the Holy Spirit had been poured out even on the Gentiles,  46 for they heard them speaking in tongues and extolling God. Then Peter said,  47 "Can anyone withhold the water for baptizing these people who have received the Holy Spirit just as we have?"  48 So he ordered them to be baptized in the name of Jesus Christ. Then they invited him to stay for several days. 
---
WE RESPOND TO GOD'S WORD
---
---
---
God of life and love,  
We praise you for the gift of yet another day. We marvel at the intricacies of your creation and the way it reflects your grand imagination and intentionality. Help us to see hope in the patterns and cycles of life and possibility you have placed us in. Let us see the resiliency of all that is good in what you create, especially when we are weary. Inspire in us ways to tend to the thriving of creation in our very living. 
Jesus Christ, our savior and teacher,  
We need you to save us from whatever is in us that creates hate, prejudice, and greed. You came to show us, the kingdom of God welcomes all people without boundaries. You taught us that those we see as "other" were actually the very people you came to invite into God's family. You commissioned the church to be a place that shows that God shows no partiality. But we are indeed still learning God. And more often than not, we do not get it right. It's so easy to fear those who are different than we are. Somehow we still believe that there might not be enough for truly everyone, so we have to fight for our share. Teach us, again, your better way.  
We pray for the black community once again. We pray for true justice to be realized—for a day when the color of skin reflects simply the beauty of diversity rather than a perceived valuing of some lives over others. We pray for all people who struggle for equality because of how they look, or speak, or where they are born, or what they do not have. Help us to be peacemakers and system-changers, Lord.  
Again, we pray for our country. We pray for its leaders. We pray that partisanship may yield to a common good. These days that feels like it might take a miracle. But miracles are not out of the realm of possibility when we ground our work from your heart, Lord. Give us stamina for these days. And for all who truly live in fear, give them comfort and safety.  
We pray for a vaccine or for a cure to this pandmic. We pray for all people whose lives have been upended by this pandemic. For those who are sick, for those caring for the sick, for those who mourn, for those who are unemployed or underemployed, for those who cannot go to school, for those who are isolated.  We also pray for everyone with health-needs overshadowed by the pandemic in these days. Their needs are just as important to you and to us; may they find healing.  
Holy Spirit, equipper of the church still today, 
We pray for our congregation. Guide our vision and our leaders as they seek to follow you in the decisions they make on behalf of this church. Give them energy, intelligence, imagination and love to serve well, even in these exhausting days. We pray for each one in our beloved church family, that they will know how much they are loved and missed while we are physically apart. May any in need reach out for help.  
All this and more on our hearts, we lift in this moment of silent prayer.  
And we pray together the prayer Christ taught us saying:
Our Father, who art in heaven, hallowed be Thy name.
Thy kingdom come. Thy will be done on earth, as it is in heaven.
Give us this day our daily bread. And forgive us our debts as we forgive our debtors.
And lead us not into temptation, but deliver us from evil.
For Thine is the kingdom, and the power, and the glory, forever. Amen.
---
---
Opportunity for Offering:
Thank you for your generosity!
May God bless these gifts to be blessings.
WE ARE SENT INTO GOD'S WORLD
---
Walls Mark Our Bound'ries
Walls mark our bound'ries and keep us apart; 
Walls keep the world from our eyes & our heart. 
Tables are round, making room for one more; 
Welcoming friends we had not known before. 
So build us a table, and tear down the wall 
Christ is our host, there is room for us all!  
Walls make us sure who is in and who's out; 
Wall keep us safe from all question and doubt. 
But at a table in open exchange, 
New ties are formed as our lives rearrange. 
So build us a table, and tear down the wall 
Christ is our host, there is room for us all!  
Once we were strangers, divided, alone. 
Hate and distrust built a wall stone by stone. 
Now at a table, the bread that we share 
Joins us to Christ in a circle of care. 
So build us a table, and tear down the wall 
Christ is our host, there is room for us all! 
---
The Go Forth to Be the Church Challenge
---
As we live as the church in these days, let us consider those thought of as "them". How can you, how can we, move over, make room and welcome them? Share your thoughts with others and imagine together how to respond to the call to radical inclusion.
---

---
---
---
This week's art:
Peter's Vision of a sheet with animals      Domenico 

Fetti

  (

1619) 

Peter's Vision   Edward 

Knippers

 (1946-  

  )

Peter baptizing the centurion Cornelius

    

Fransesco

 Trevisani (1709)