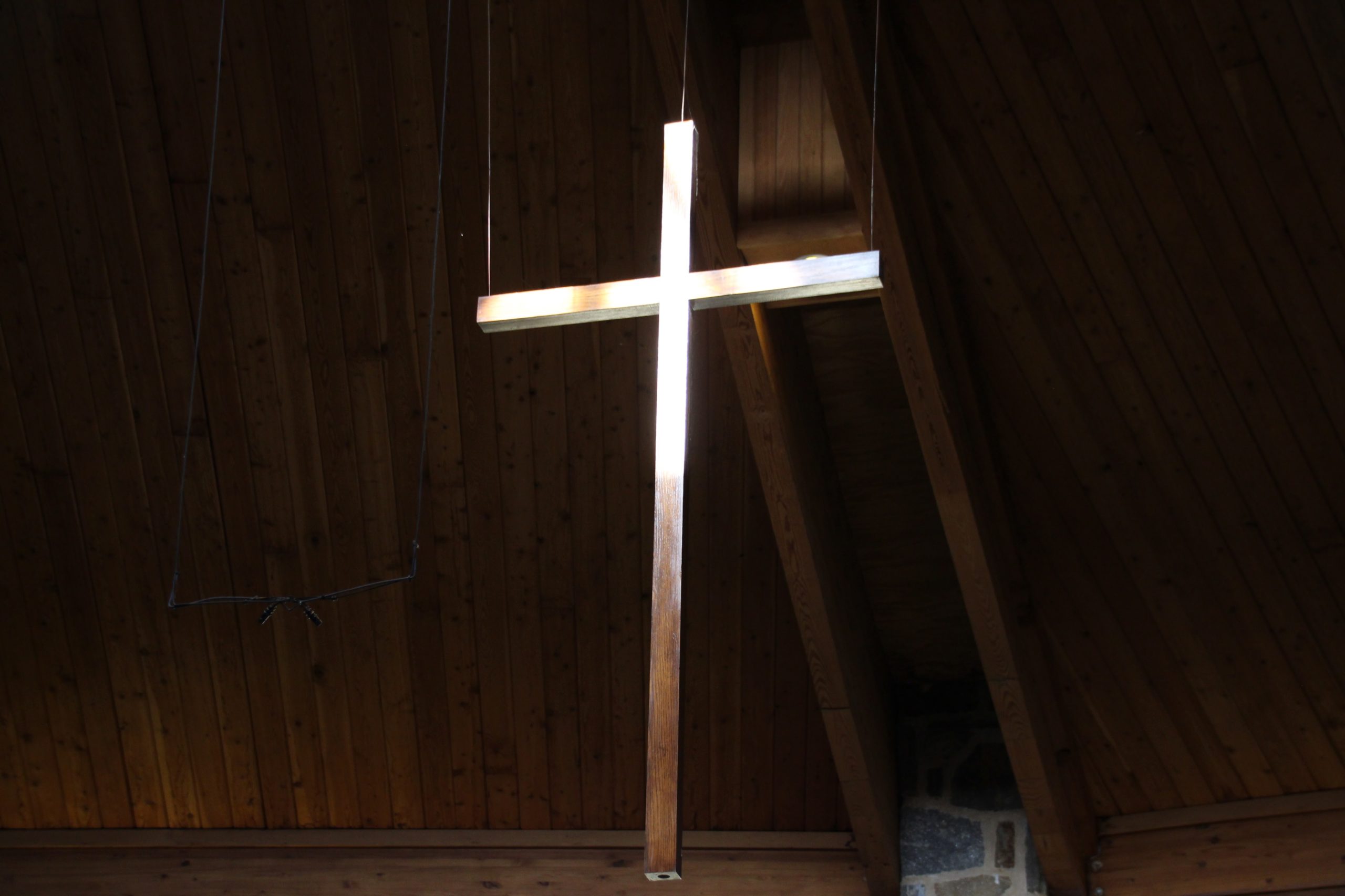 ---
Worship for Sunday October 18th, 2020
---
Celebrating the Lord's Day from our homes
---
---
---
As a PC(USA) congregation, we believe the worship of the triune God is the center of our common life and our primary way of witness to the faith, hope, and love of Jesus Christ. Worship binds us together as a congregation and equips us to know, love, and serve God in every aspect of our lives. Thankfully, we also believe worship has never been confined to a particular space or building. In these days when staying away from large physical gatherings is an important way we love our neighbor, we are grateful for the ways we are still gathered across boundaries as we worship together on Sunday mornings. May this service glorify God, unite our congregation, and center your soul this day.
Join us—light a candle, turn up the volume on your computer or device, and remember who and whose your are! Let us worship God, together. 
As we gather for worship, you are invited to light a candle to represent Christ in our midst.
WE GATHER AS GOD'S PEOPLE
---
Great is Thy Faithfulness
---
Welcome & Announcements
---
---
Come, people of God, and let us worship our God of great faithfulness.
Whose loving power frees us from sin,
Whose powerful love unlocks closed minds and hearts,
In whose presence we find true freedom,
And in whose will we find our true calling.
Hallelujah, our God is good!
---
---
Call to Confession
As those called to a journey of faith, we know we have strayed.
As those called to a journey of faith, we know we have dug in our heels, and chosen to be stuck in place.
God calls us forward, by forgiving every sin that holds us back.
Let us seek God's mercy, that gift that helps us move on.
---
Holy God,
Your Spirit breathed life and power into believers once upon a time, and still today.
You inspire a variety of gifts,
but we are too quick to deny them in ourselves, or to see them in others.
You call us to go and share the good news,
but we resist unfamiliar territory, and unfamiliar faces.
We hold on to what has worked for us,
when you seek to work a new thing through us.
We withhold from others the grace you freely offer us,
and are quicker to offer criticism than compassion.
You show no partiality,
yet we are content with our privilege.
We choose silence when we are called to speak,
and let fear weaken our stand against all that denies the justice you call for.
Forgive us, O God, for not seeking or sensing your Spirit's presence on every step of our journey as your church. Guide our feet, guide our faith, that we would trust your leading, even in the detours along the way. Grateful for your mercy that moves us on, hear our prayers…
---
"As the heavens are high above the earth, so great is God's love toward those who fear God; and as far as the east is from the west, so far does God remove our sin from us." (Psalm 103:11-12)

There is nowhere we can go, there is nothing we can go through, where God's loving mercy doesn't meet us. Believe and receive that good news – in Jesus Christ, we are forgiven! Thanks be to God!
---
To share the peace of Christ this week, first pray to feel it deeply within yourself - and then share it freely with someone you know who needs it.
---
WE LISTEN FOR GOD'S WORD
---
Time with the Children
---
---
Speak to us through your Word, O God.
Open our minds to understand, our hearts to believe,
and our wills to live out your will.
In the way of Jesus, Amen.
---
16 One day, as we were going to the place of prayer, we met a slave-girl who had a spirit of divination and brought her owners a great deal of money by fortune-telling. 17 While she followed Paul and us, she would cry out, "These men are slaves of the Most High God, who proclaim to you[d] a way of salvation." 18 She kept doing this for many days. But Paul, very much annoyed, turned and said to the spirit, "I order you in the name of Jesus Christ to come out of her." And it came out that very hour.
19 But when her owners saw that their hope of making money was gone, they seized Paul and Silas and dragged them into the marketplace before the authorities. 20 When they had brought them before the magistrates, they said, "These men are disturbing our city; they are Jews 21 and are advocating customs that are not lawful for us as Romans to adopt or observe." 22 The crowd joined in attacking them, and the magistrates had them stripped of their clothing and ordered them to be beaten with rods. 23 After they had given them a severe flogging, they threw them into prison and ordered the jailer to keep them securely. 24 Following these instructions, he put them in the innermost cell and fastened their feet in the stocks.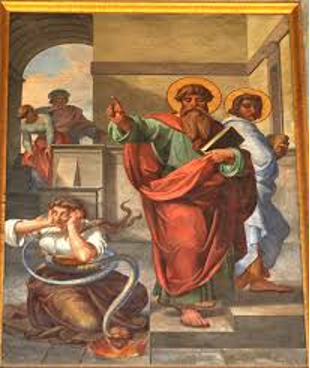 ---
25 About midnight Paul and Silas were praying and singing hymns to God, and the prisoners were listening to them. 26 Suddenly there was an earthquake, so violent that the foundations of the prison were shaken; and immediately all the doors were opened and everyone's chains were unfastened.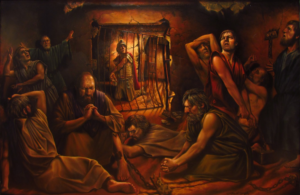 27 When the jailer woke up and saw the prison doors wide open, he drew his sword and was about to kill himself, since he supposed that the prisoners had escaped. 28 But Paul shouted in a loud voice, "Do not harm yourself, for we are all here." 29 The jailer[e] called for lights, and rushing in, he fell down trembling before Paul and Silas. 30 Then he brought them outside and said, "Sirs, what must I do to be saved?" 31 They answered, "Believe on the Lord Jesus, and you will be saved, you and your household." 32 They spoke the word of the Lord[f] to him and to all who were in his house. 33 At the same hour of the night he took them and washed their wounds; then he and his entire family were baptized without delay. 34 He brought them up into the house and set food before them; and he and his entire household rejoiced that he had become a believer in God.
35 When morning came, the magistrates sent the police, saying, "Let those men go." 36 And the jailer reported the message to Paul, saying, "The magistrates sent word to let you go; therefore come out now and go in peace." 37 But Paul replied, "They have beaten us in public, uncondemned, men who are Roman citizens, and have thrown us into prison; and now are they going to discharge us in secret? Certainly not! Let them come and take us out themselves." 38 The police reported these words to the magistrates, and they were afraid when they heard that they were Roman citizens; 39 so they came and apologized to them. And they took them out and asked them to leave the city. 40 After leaving the prison they went to Lydia's home; and when they had seen and encouraged the brothers and sisters[g] there, they departed.
WE RESPOND TO GOD'S WORD
---
---
As we come to God in prayer, I invite us to be drawn in to pray by what we see and hear in the piece that follows. We are grateful that God indeed "comes by here" when we seek God's presence and offer our hearts. Let us pray:
---
---
And with these prayers of our hearts, for ourselves, our loved ones, our church, our community, our nation, our world, we pray as Jesus taught his followers, praying:
Our Father, who art in heaven, hallowed be Thy name.
Thy kingdom come. Thy will be done on earth, as it is in heaven.
Give us this day our daily bread. And forgive us our debts as we forgive our debtors.
And lead us not into temptation, but deliver us from evil.
For Thine is the kingdom, and the power, and the glory, forever. Amen.
---
Koren Motel and John Yurkutat
---
---
Opportunity for Offering
Thank you for your generosity!
May God bless these gifts to be blessings.
WE ARE SENT INTO GOD'S WORLD
---
God of Grace and God of Glory
Hymn #490 Glory to God Hymnal
---
---
The Go Forth to Be the Church Challenge
---
We don't have to be in the church to live out our calling as the church. As we do, be assured that nothing can limit or lock out God's love for you. In these days, seek out ways to open your eyes, minds and hearts to those who are living the limits of injustice. And let us pray, stand up and speak out for their freedom. 
---

---
---
---
Art This Week
Oil Painting, c. 1860 outside the Basilica of St. Paul in Rome
Paul and Silas in Philippian Jail, Frank Murphy, Jr. 2010